Executive Team
Akira Nakada : President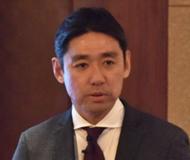 Born on July 20, 1965 in Tokyo.
After resignation from Mitsubishi Electric semiconductor trading company, joind Sun Microsystems Japan in 1995 as a member of the partner sales, global account sales and Assistant General Manager at Kyushu office.
Having resigned the company in April 2009, joind EC-One Corporation Co., Ltd as director.
In November 2011, founded Nautilus Technologies, Inc as a director. In 2016, took office as Vice President Representative Director of the company.
Along with becoming a subsidiary of Nautilus Technologies, took over as President of OceanBridge in June 2017.